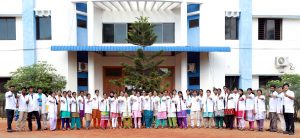 A long cherished dream of a Dental College at Madurai, the temple city came into validity in the year 2007 with great efforts of Madura & Ramnad Diocese Bishop Rt. Rev. Dr. A. Christopher Asir.  The college is recogonised by the Dental Council of India and Ministry of Health, New Delhi and it is affiliated to Tamilnadu Dr. MGR Medical University.  The College was inaugurated by the then Honourable Health Minister of Tamilnadu on 21.09.2007.  The classes for the first batch of 50 students commenced from 29.09.2007.
The Dental Hospital attached to the College is run by the specialists from various branches of Dentistry.  All basic treatments like extraction of teeth are done at free of cost.  All forms of ailment are managed by the concerned qualified specialists with modern equipments.  A multi-storied building is available to accommodate all clinical departments under one-roof.
The Christian Mission Hospital, Madurai is a 150 bedded multi-speciality hospital with out-patient departments, in-patient services, 24 hour emergency services, critical care services, day and night pharmacy, licensed blood bank and highly qualified medical professional.  CSI College of Dental Sciences and Research is attached to this hospital.
Since its inception, CSICDSR has been focused in delivering quality education to its students by providing guidance and opportunity for hands on experience.  As the institution is located in the heart of the city and most of the minor treatments are at free of cost in the dental hospital has a very good patient inflow.